Category: RPG
Publisher: SquareSoft
Released: 1991
ROM Size: 8 Megabits
Progress: ~25%

Preferred Emulator: ZSNES

This is the first ROM editing project I ever attempted. It's intended to be a complete overhaul of FF2's text. I may resume work on it in the future, but the project is currently stalled, as I'm focusing my attention on Super Dante.


Latest Patch

The latest (well, the first) patch is here. The following has been done in this release:
Script rewritten up to the Village of Mist
All "Dummied" items restored
Many items renamed (Life to PheonixDown, Cure1 to Potion, etc.)
Some class names changed (Wh.Wiz to Priest, Chief to Engineer, etc.)
All class names completely spelled out (DKnight to DarkKnight, etc.)
Some menu screens modified
Screen font touched up
Currency changed from GP to Gil
Several other minor changes
The .ZIP file also includes an FF2 Inventory Editor that I wrote. It modifies the inventory data in ZSNES Save State files, allowing you to give yourself any items you like (including the "Dummied" items).


Screen Shots

These screen shots show some of the modifications made to the game.

(THE ORIGINAL GAME)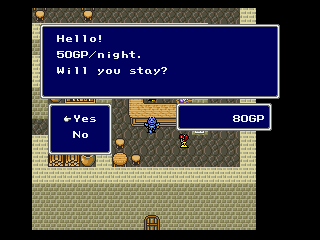 (THE MODIFIED VERSION)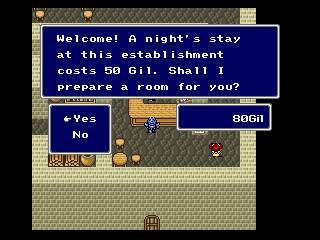 MOST OF THE SCRIPT CHANGES ARE NOT THIS DRASTIC, BUT IT SHOULD GIVE YOU SOME IDEA OF WHAT TO EXPECT.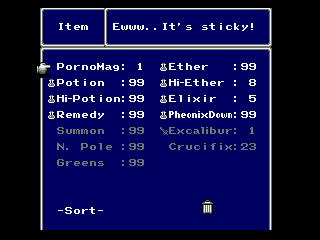 SOME OF THE RENAMED & RESTORED ITEMS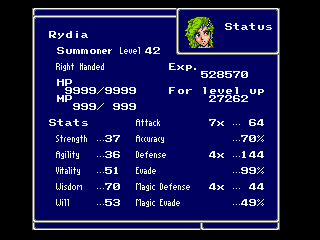 THE REVAMPED STATUS SCREEN
These pages are best viewed at 800x600 or higher resolution, in 16-bit color, with the Verdana TrueType font installed. This site, and the web in general, will also look better if you have Font Smoothing enabled. If you're using Windows 95, download the Win95 TrueType Font Smoother. If you have Win98 or NT4, Font Smoothing is built-in; enable it via the Control Panel Display Properites.
Copyright © 1998 Jesse Dorland