Category: Game Development
Publisher: ASCII
Released: 1995
ROM Size: 8 Megabits
Progress: <10%

Preferred Emulator: SNES9X

In Super Dante, you develop your own turn-based RPG from the ground up, choosing characters & enemies, creating spells & items, designing dungeons and defining story events.

As far as I know, this is the only active translation of Super Dante. KanjiHack's translation was dropped some time ago, most likely because of the game's compatibility problems -- SD doesn't work properly with any current Super NES emulator.

With ZSNES and most other emulators I've tried, some of the menu screens are garbled, and the editor crashes frequently. I recommend using SNES9X, but it has problems with SD as well; you can't save any data in the editor or sample game.

Despite these compability issues, I'm continuing with my translation, because Super Dante will eventually work properly with one emulator or another. It's only a matter of time.


Latest Patch

No patches are currently available. I will upload the first patch as soon as I've translated a decent amount of the editor.


Screen Shots

Here are some screen shots of the current translation progress. It's coming along nicely.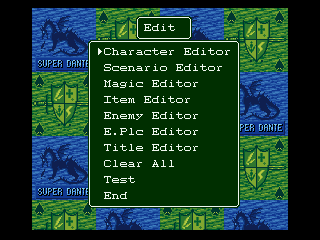 THE EDITOR'S MAIN MENU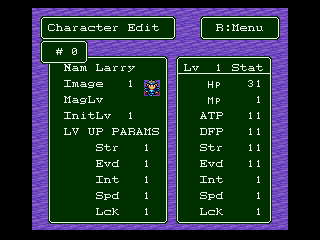 HOPE YOU LIKE ABBREVIATIONS, 'CAUSE THERE ARE TONS OF 'EM!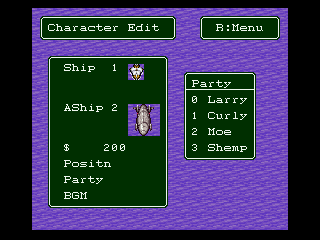 CHOOSING THE GAME'S SHIP GRAPHICS, INITIAL PARTY MEMBERS AND OTHER GOODIES
These pages are best viewed at 800x600 or higher resolution, in 16-bit color, with the Verdana TrueType font installed. This site, and the web in general, will also look better if you have Font Smoothing enabled. If you're using Windows 95, download the Win95 TrueType Font Smoother. If you have Win98 or NT4, Font Smoothing is built-in; enable it via the Control Panel Display Properites.
Copyright © 1998 Jesse Dorland